Cafe Mai Mai – My Favourite Pho Restaurant. NO MSG!
Often many people ask me what my favourite food in the world is. It's a really hard question to answer, but when I answer I think of the one food item I cannot live without. It's also the one food item I think about whenever I come back from a long vacation eating food from another culture. For me, it's noodle soup. It can be ramen, pho, chicken noodle soup, or fish ball seaweed soup. Any type of noodle in any type of broth is my absolute FAVOURITE type of food. <3
My friend Queen B recommended a restaurant called Cafe Mai Mai not too far from my home and she said their pho is spectacular. She also said they use absolutely no MSG and that once you taste the broth, you will understand.
Since my first visit, I've been back maybe 7 times and I bring absolutely everyone I know to my now favourite pho restaurant. This is the #2 Small ($7.95) and it contains rare beef slices (which gets cooked in the hot broth), tendon, tripe, and beef balls. You'll notice the broth is a bit darker in colour than the traditional ones we're used to eating. It's darker because the owners need to use more beef meat and bones in their broth to make up for the lack of MSG. What you'll get is a richer, more flavourful, yet cleaner broth.
Your typical bean sprouts, basil leaf, and green pepper.
I can't explain how delicious the broth is (just like Queen B), you literally have to taste it for yourself to understand what I'm talking about.
Cafe Mai Mai also has a stamp card so if you eat 9 bowls, you get the 10th one free. What I love is that you also have the option of donating you 10th bowl back to them so they can donate the proceeds to the Canadian Cancer Society. I absolutely adore that idea and I think more local businesses should also adapt that. What an incredible way to promote giving back.
While I've tried their Vietnamese Coffee multiple times, I'm not a coffee connoisseur so I can't say whether this place has the best coffee or not.
For an amateur coffee drinker like myself, it tastes mighty delicious to me!
I also love eating the pho with their homemade chili sauce so I ended up buying one jar to take home for eight dollars. It's legit chili oil guys. So goooood.
Service Rating: 4/5
Food Rating: 5/5
Price: $-$$


Overall Rating: 5/5
Happy Eating!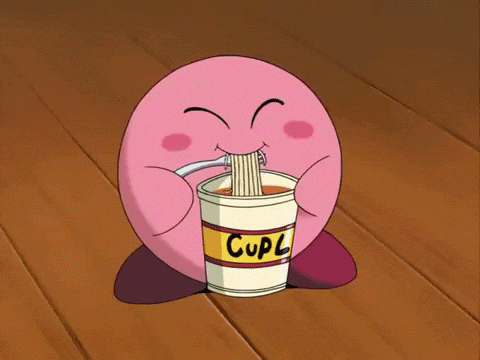 Kirby eating noodles. How fitting!